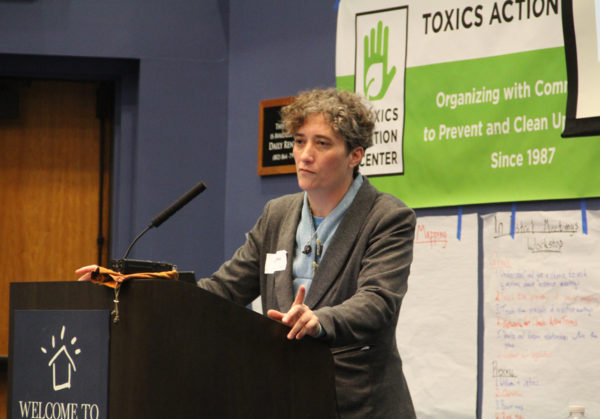 View Amy's LinkedIn profile
Cell: (802) 793-1114
amy@action-circles.com
Twitter: @amyaction
www.facebook.com/actioncircles
Amy Shollenberger has more than 20 years of grassroots organizing, policy, and political issue campaign experience, including work as a press secretary for a member of the U.S. House of Representatives and as a senior policy analyst for Public Citizen's Critical Mass Energy and Environment Program. As Rural Vermont's executive director, she worked to help members successfully lobby for several bills. In 2010, she was the campaign manager for a gubernatorial primary candidate in Vermont. She currently serves multiple clients through her Action Circles firm, offering help with political strategy, organizational capacity building, and meeting facilitation.
Policy/Campaign Experience
Managed a gubernatorial primary campaign
Lobbied members of United States Congress and state legislatures regarding legislation
Coordinated local, state, and national coalitions
Facilitated meetings for consensus outcomes
Ensured effective communication between coalition members—both individual members and organizational members
Testified at agency and legislative hearings and participated in roundtable discussions
Presented at events, workshops, and rallies
Developed and coordinated local and national grass-roots organizing campaigns
Public and Media Relations Experience
Developed and implemented media strategies
Cultivated relationships with local and national press
Organized press conferences and other media events
Developed message and implemented marketing strategy to publicize message for grassroots campaigns and candidates
Developed and maintained web sites
Represented organizations and candidates in print interviews, radio call-in shows, television talk shows, and press conferences
Created press kits
Organized and publicized public events and forums
Strategy Implementation and Management Experience
Managed grant projects and budgets
Developed strategic plans and annual budgets
Developed volunteer programs, and recruited and supervised volunteers and employees
Raised funds to achieve goals (including a $200,000 annual budget)
Developed materials for campaigns and outreach and ensured appropriate distribution
Developed and maintained databases of members, donors, and volunteers
Collected information and wrote grant reports
Writing and Editing Experience
Created materials for campaigns, including letters, email updates, brochures, fact sheets, action alerts, and press kits and produced newsletters
Researched and wrote technical and legislative reports and issue briefs
Wrote speeches, press releases, editorials, and statements
Coordinated collaborative writing of 200-page environmental assessment report
Developed and presented multi-media presentations to various audiences
Researched and wrote successful grant proposals
Employment History
Campaign Manager, Racine for Governor, VT
August 2009 to August 2010
Director, Rural Vermont, Montpelier, VT
July 2006 to July 2009
Policy Director, Rural Vermont, Montpelier, VT
February 2003 to July 2006
Coordinator, Lamoille Valley Tobacco Task Force, Morrisville, VT
October 2000 to February 2003
Coordinator, Chittenden County Domestic Violence Task Force, Burlington, VT
March 2001 to November 2001
Communications Director, Rural Vermont, Montpelier, VT
July 2000 to March 2001
Senior Policy Analyst, Public Citizen, Washington, DC
September 1999 to June 2000
Communications Director, U.S. Representative Karen McCarthy (MO-05), Washington, DC
June 1998 to August 1999
Public Involvement Coordinator, Hamilton County Environmental Priorities Project, Cincinnati, OH
May 1997 to May 1998
Graduate Assistant, Miami University English Department, Oxford, OH
September 1996 to December 1997
Dean's Assistant, Lebanon Valley College International Programs Office, Annville, PA
1994 to 1996
Assistant Children's Librarian, Pottsville Free Public Library, Pottsville, PA
1989 to 1991
Independent Contractor/Consultant
1994 to present